Beating the Winter Blues
H. Bradford
11/30/17
It seems that winter came early this year.  Although I have lived my whole life in either Wisconsin or Minnesota, winter still arrives with shock and disappointment.  This year, it seemed to begin on October 27th with our first snow storm of the season.  The following weeks remained fairly cold and that initial snow didn't melt until mid-November.  Daylight Savings Time, which sets the sunset back an hour, only seems to worsen the onset of winter, since suddenly it is dark at 4:30 pm.  I escaped for two and a half weeks to warmer climates, so this only added to my "season shock" this year.  (I have coined my experience season shock- which is like culture shock- but about seasonal adjustment).  Yes, upon returning home after visiting my brother in Texas- I felt demoralized by the cold and darkness.  He will be moving back to Minnesota next year.  I wanted to warn him not to.  It is miserable here.  This place is a cold, dark hell.  In some mythologies, it might be akin to the imagined land of death- white, sterile, and quiet- where bones crack in the cold, snapping like icicles off ledges.  My work schedule of night shifts makes things worse- since I live in the the long dark space between sunsets and sunrises.  I felt crabby, lethargic, and disappointed.  Well, I really don't want to be that way!  So, here are some things I have done to make the most of winter and try to changed that attitude.
Bentleyville:
Each year, Duluth features a free light show- with free cookies, hot cocoa, popcorn, marshmallows, costumed characters, bonfires, and more!  I have gone twice already this year.  Perhaps, this will even be the year that I finally try to volunteer there.  While winter isn't awesome, I will say that the darkness creates the canvass for stunning light displays.   I can relate this to the concept of Metaxu (from Simone Weil and Plato), which roughly describes things that separate us in some ways but connects us in others.  Darkness separates us from the visual world.  Night is bothersome since it makes it harder to enjoy the outdoors or do activities that we might enjoy during the day.  In this case, while darkness connects us to the beauty of light displays.  These displays would not be a pretty in daylight.  So, in this way, the darkness connects us to beauty and light.   Plus, there is so little that is free in capitalism!  You can't complain about free cookies, hot cocoa, popcorn, and wholesome fun!  I think that Bentleyville is wonderful.
The Night Sky:
Following the same logic as the last point, the darkness of winter and the long nights make it an optimal time of year for stargazing.   While I have not gone star gazing yet this month, I do plan on rescheduling a Feminist frolic for the planetarium and trying to catch the Northern lights (which are predicted to make an appearance early next week).  So, one great thing about winter is that it is a nice time of year for enjoying the night sky.
Birding:
I was a little sad to see all of the birds migrate.  While I was on my trip, I was reminded of all of the birds that were gone for the winter.  I even saw some of the species of birds which had migrated south!  However, on Sunday I drove to Two Harbors to hike around and do some geocaching.  I actually saw quite a few birds.  There were a few Common Goldeneye ducks, diving and bobbing in Agate Bay.  I watched them, getting a closer view than I've had of that species.  I also saw a NEW species of duck- a female Harlequin duck.  I was surprised, since I didn't expect to see many new birds this winter-if any at all.  I think that it was a good reminder that there are still plenty of birds around.  On December 9th, the Sax Zim Bog will open to winter visitors and host a few birding/nature hikes.  I hope to attend.
Geocaching:
I tried geocaching for the first time in March.  While it isn't the most educational hobby, it is fun to search around for these hidden treasures.  I am not great at it, but it does bring a sense of accomplishment to me each time I manage to find a hidden container.  While I don't do it all of the time, I decided to go geocaching on Sunday in Two Harbors and Monday at Pattison State Park.   Today, I found my 100th cache.  I think that winter is a great time to geocache since there is less foliage and vegetation to thwart my view of the caches.  Also, there aren't any wood ticks.   It is also a nice hobby for winter since it doesn't compete with birding as much (since there are fewer birds out and about).
  Just a photo from Pattison State Park, where I geocached earlier in the week
Winter's Solitude:
On Monday, I went to Pattison State Park for hiking/geocaching.  I was the only at the park.  The park office was closed and the parking lot was desolate.  It was wonderful to haunt the park, wandering the trails as the only soul on the premise (there were park service people somewhere, but I didn't see anyone at the park office and there were no other park visitors).  In the summer, parks tend to be busier.  The beach would be full of swimmers and the tables occupied by picnic-ers.   On Monday, it was only me.  It was wonderful.  I enjoyed it too much and kept reminding myself of the moral lessons of the Twilight Zone (don't wish for people to go away.  You might lose your contact lenses).  It was a really enjoyable time.  This is something to really be thankful for- a whole park to myself!  I found a few caches and enjoyed the waterfall (the tallest in Wisconsin- though that doesn't seem like much of an accomplishment for a waterfall).
Embracing the Indoors:
During the summer, I sometimes feel guilty for sleeping during the day after a night shift.  I feel like I am missing out on a beautiful, sunny day.   In winter, while I still feel like I am missing out on sunlight, this is unavoidable.  So, I guess that if nothing else I can embrace the season because the cold and darkness give me a good excuse to stay indoors.   In my ideal world, I would use this wonderful indoor time to write, read, study, create art, try to practice violin, do fitness DVDs, or any number of other hobbies that I could explore.  But, this is not my ideal world and I am not my ideal self.  I haven't done many if any productive indoor hobbies lately.  However, I have embraced the indoors by taking advantage of indoor fitness classes.  While I am not a member at any gyms, I have gone to a few fitness classes with my coworkers Kaila and Katie at CSS.   I have attended a dance cardio class and a barre class.  I also try to do a ballet class through Sterling Silver Studio in Superior.   Since it is cold outside, I may as well embrace the indoors by attending indoor fitness classes.  Walking on a track or treadmill is no substitute for a walk outdoors, but it helps to combat the cooped up/inactive feeling that I dislike about winter.
Embracing Winter Hobbies:
Snow does allow for winter hobbies.  We don't have any snow at the moment, but maybe later this winter I can go cross country skiing and snow shoeing again.  There are other winter hobbies I could try as well.  One of my goals is to try out a fat tire bicycle this winter.  We'll see if I finally try one out this winter…
Embracing Warm Things:
One positive thing about winter is that it makes warm things far more enjoyable.  I can definitely say that soup, hot tea, hot cocoa, or generally any hot food or drink is much more pleasant in the winter.   Even if I don't have a cold, Throat Coat is my favorite and most soothing hot tea by far.
Embrace Seasonal Sweaters:
I like being warm.  A fun way to stay warm is with seasonal sweaters.  The other day, I went to Goodwill and bought a few seasonal sweaters.  By seasonal, I mean the sort of sweaters that an elderly woman might wear- with snowmen, mittens, cats, or cardinals on them- some are embellished with sequins, tiny rhinestones, and puff paint textures.  Having an arsenal of winter themed sweaters/sweatshirts helps me get into the mood of winter.  It is hard to be grumpy when you are wearing a sweatshirt of three snowmen sharing hot cocoa.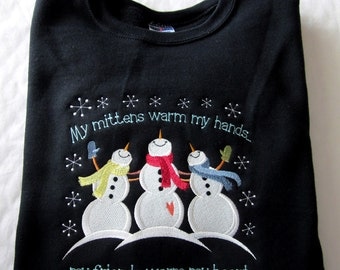 I don't own this sweater, but it represents the spirit of winter whimsy.
Season Shock:
The reason that I feel that I experience "season shock" rather than seasonal affect disorder is because my experience is more of an adjustment issue.    I feel that the transition to winter is disappointing because it means a loss of freedom, outdoors, health, light, and warmth.  It means that life is harder- since the weather is harsh, the day is short, the roads are icy, cars need to be warmed up, and illness spreads more easily.  Adjusting to the "new normal" of winter isn't an easy process.  But, I don't feel that for me, it is a form of depression.  To me, the difference is that when winter hits, I want to be active, I WANT to be outdoors, I WANT all of the fun of fall and summer.   Winter is an insult to my drive to live and experience.   When I am actually depressed, I don't want to do anything….and don't even want to want to do anything.   I think that by being intentional, setting goals, and taking advantage of the 40 degree weather we've had lately has helped me escape my winter funk.   But…we'll see how it goes when the temperature continues to decline next week- and we see highs in the teens….