Navigating Public Service Loan Forgiveness
H. Bradford
4/8/18
In 2007, the Public Service Loan Forgiveness program was launched under the Bush administration.  The program allows student loan borrowers to have their loans forgiven if they make 120 qualifying payments on their loans while working full time as a public servant.  This includes work for state, tribal, and federal organizations, 401c non-profit organizations, Americorps, Peace Corps, and some other qualifying non-profits. I did not learn about this program until about two years ago when I was faced with the reality of paying my student loans and spent some time looking through repayment options.  Since the program is not well promoted or advertised, many people are not aware that they may be able to have their loans forgiven. Had I known about it, I could have enrolled years ago and made some headway towards the 120 qualifying payments. This past year marked the 10 year anniversary of the program, which meant that the first cohort of enrollees in the program were qualified for loan forgiveness.  However, many found that they had not been making qualifying payments and would potentially have to start over. In all, only about 1000 of the 7,500 people enrolled in the program are expected to actually qualify for loan forgiveness this year (Lobosco, 2018). It is unknown how many, if any, have actually seen their loans forgiven, but the frustration of many borrowers has resulted in some lawsuits against loan servicers.  I have had my own frustrations and setbacks as I have tried to navigate the program. I will try to share some of the things I have learned along the way so that others can avoid the pitfalls that have thwarted so many borrowers.
Direct Loans and Consolidation:
One of the criteria for loan forgiveness is that student loans must be Direct Student Loans (which confusingly are also called Direct Plus Loans and Unsubsidized/ Subsidized Stafford Loans.)   Payments on loans that are not Direct Loans (such as federal Perkins Loans and FFEL loans) do not count and so if you spend time making these payments, it will not works towards the 120 or 10 years of payments.  If you decide to consolidate these loans into a Direct Consolidation Loan, you will loose credit on any payments on the Direct Loans you had been making payments on.  Thus, if you make payments on loans that are not Direct Loans or make Direct Loan payments AND then consolidate all of the loans, and the payment clock will reset once the loans are consolidated. Therefore, aside from working at a qualifying institution, it is important to consolidate non-Direct loans into a Consolidated Direct Student Loan early in the payment process.  In general, it is best to consolidate all federal loans early in the payment process (since once they are consolidated into the Direct Consolidation Loan the 120 payments reset).  I made the mistake that some of my loans were consolidated and some were not.   This is because I had consolidated some of them years ago.   I accumulated additional loans which were not part of the consolidation.  Both of these loans were serviced by Navient with qualifying payment plans, which I made payments on for a year.  It  was my belief that some of the loans may not qualify for forgiveness after 10 years of payments.   Because of this error and to make certain all loans were forgiven, I reconsolidated the loans.  Consequently, I lost a year of payments towards my 120 qualifying payments.   Despite the loss of time, I figured it was better to start over and have everything forgiven than reach the end with only some forgiveness.  Thus, if you are entering the program, make sure that your loans are Direct Loans and that you consolidate early on if you have multiple loans!  There are some other entities that try to offer consolidation loans.  If your consolidation loan is through a bank or some other entity than the federal government, it will not qualify for PSLF.
(Originally, I wrongly wrote that only consolidated Direct Loans qualify.  All Direct loans qualify for the program- but in my case, I was unsure if my loans qualified and was making payments on consolidated and non-consolidated loans.  When I consolidated them I started over.  If you are confused on this matter, read the section on eligible loans: https://studentaid.ed.gov/sa/repay-loans/forgiveness-cancellation/public-service/questions)
 Qualifying Payments:
To qualify for student loan forgiveness, borrowers must make 120 qualifying payments.  This means that only certain payment plans meet the criteria for forgiveness. A person can qualify by making payments under a standard payment plan.  There are also several income driven plans (IDR) which include Pay as you Earn (PAYE), Revised Pay as you Earn (REPAYE), Income Based Repayment (IBR), and Income Contingent Repayment (ICR).  To qualify for IDR, I filled out a request form and submitted it with my income taxes. Generally, if a person qualifies for IDR, the payments are 10-15% of discretionary income, or income above 150% of the poverty line.  Borrowers must also demonstrate some sort of financial hardship, but simply having a high loan balance compared to annual income is sufficient to qualify. Each year, a borrower must submit new tax information and a new request form to qualify for the payment plan.  To apply for income driven repayment, you can visit StudentLoan.gov https://studentloans.gov/myDirectLoan/ibrInstructions.action?source=15SPRRPMT
Not all payment plans are qualifying payment plans.  For instance, some borrowers were on extended or graduated payment plans.  These plans are NOT qualified for forgiveness, as borrowers found out the hard way when they tried to apply for forgiveness this year.  While these plans also lower monthly payments and are also government sponsored payment plans, they do not qualify for the program. However, the federal spending plan passed in March has made $350 million available to borrowers who made ten years of payments under these plans so that they do not have to restart the clock on repayment (Lenza, 2018).  Despite this recent provision, the funds are only available until they have been used up, so, it is best to either apply for these funds immediately if you have been on the wrong payment plan or switch over to a qualifying payment plan.
Image from: https://blog.iontuition.com/qualifications-public-service-loan-forgiveness/
Employment Verification:
The heart of this program is employment in public service.  It is important to note that this does not have to be continuous employment or even employment at the same job.  For instance, if you make qualifying payments while doing a year of Americorps service, spend a year working at a for profit company, followed by a year of non-profit work, this would still count as two years of qualifying payments, even if the work was interrupted.  Of course, the year at a non-qualifying workplace would not count, even if payments were made on the student loans. Full time is considered an average of 30 hours a week or more, so it is possible to be a "part-time" worker in terms of hours and benefits, but still be considered full time by PSLF standards.
The program does not require individuals to submit employment verification each year in order to qualify in the end.  When I applied for income driven repayment, I checked a box stating that I worked in a non-profit. I figured this was sufficient for their tracking purposes.  It is…and…it isn't. While a person COULD work at qualifying workplaces for the duration of the ten years, then, at the end of the 120 payments submit an employment verification form to prove this, it is better to submit this annually for a number of reasons.  1.) This program is under attack by politicians, so, officially enrolling in the program is a good way of getting grandfathered in should the program end. 2.) Your employer may not qualify- so it is better to know sooner than later. 3.) It is a way to keep track of progress towards the 120 payments and avoid any mistakes that will cost time and money by delaying forgiveness.
If you wish to submit an employer verification form, here is is.   Simply have your employer fill out the required parts, then you can mail or fax it to the Department of Education.  But, beware, submitting this form will set in motion a series of unfortunate events….
Changing Loan Servicers: A Series of Unfortunate Events
While there are many good reasons to immediately submit the employment verification form, there is one major downside.  The major downside is that this will switch your loan servicer to FedLoan, which is the most unpopular and poorly rated loan government servicer.  The government has several student loan servicers including Great Lakes, Navient, Nelnet, and Fedloan. Despite the fact that they all oversee student loans for the government, only FedLoan is used for Public Service Loan Forgiveness.  This means that once you submit your employment verification form, your loans will be transferred from your servicer to FedLoan. FedLoan has poor reviews for customer service, miscalculating IDR, delayed processing of payments, slow processing time for paperwork, etc.
I submitted my employment verification form in January.  In the meantime, I continued to make payments with Navient.  It took four months for the loan to finally be switched over to FedLoan.  And, when it finally switched over, I was given less than a week's notice that my payment would be due!  Not only was my payment with FedLoan due in a week…it was for the full amount…as the income based repayment plan was not transferred with the loan.  While FedLoan had no problem transferring my banking information for automated payments from Navient along with the due date of Navient's payment, the servicer was completely incapable of transferring my payment plan, even though I had renewed the payment plan in December.  The payment plan was not set to expire for eight months. Worse, I was expected to make a nearly immediate payment of over $1000. Yes, this was a nightmare.
To navigate this disaster, I submitted a renewal for my income driven plan on the same day that I learned my loan had been transferred.  This form can be submitted electronically on FedLoan's site. Borrowers are also able to submit tax forms electronically on their website.  Despite my quick action, I read that FedLoan is notoriously slow and inept at calculating IDR. Some borrowers have had to wait three months to have their income driven repayment plans approved.  In the meantime, borrowers are expected to make full payments. I also called the next day and spoke with a representative, wherein I explained my situation and the surprise at the sudden high payment.  I was able to defer my loans for several months while the IDR is being processed. I actually asked to continue to make payments for the same amount that I made with Navient for this duration, but was told that these would not count as qualifying payments for PSLF.  Although I was approved for temporary forbearance, to make 100% certain that my checking account is not debited the full amount of the loan, I suspended payments for the month. This can also be done electronically on FedLoan's website. Now, I am hoping that with this multifaceted approach, I can avoid some of the frustrations other borrowers have experienced.  My main piece of advice is to be observant and proactive.
I am still in the early stages of my relationship with FedLoan.  With time, FedLoan should provide me with a report on my payment progress towards the 120 payments.  I have not yet received the report, but I have read that some borrowers have found errors in how this was calculated.  Again, it seems like FedLoan is the shit show of loan servicers. But, I will say that the representative I spoke to was helpful and my forbearance was processed within 24 hours.  I also received notice yesterday that my IDR was processed. This means that it was processed within four days. While the new payment plan has not yet gone into effect, perhaps this is a kernel of hope that FedLoan may not be absolutely awful.
Other Information:
Currently, borrowers who do not work at work places which qualify for PSLP can still qualify for loan forgiveness.  Borrowers who make qualifying payments on their undergraduate student loans for a MERE 20 years can have their loans forgiven.  And, if you have debt from graduate school, you can see financial freedom after 25 years of qualifying payments! Hope springs eternal as there is the possibility that debt can be forgiven by retirement.  If it is not, delinquent student loan payments can be taken out of social security benefits (up to 15% of benefit). It is important to note that any student loan debt that is forgiven by the government is counted as taxable income.  It is also important to note that at this time, PSLF debt forgiveness is tax exempt (but 20 and 25 year forgiveness under extended payment plans is not). One final thing to be aware of is that marriage means that Income Driven Repayment plans are calculated with both incomes.  This changes payment amounts and may bar some people from qualifying for these plans. Thus, another piece of student loan repayment advice is to never get married.
Conclusion:
Navigating Public Service Loan Forgiveness can be frustrating to say the least.  I am thankful for my education, but certainly wish that education did not require taking on such debt.  In exchange for my education, I am certainly willing to provide a service to society. Though, rather than creating debt that is escapable only through death, we should provide free public education from pre-k through Ph.d.  For those who are passionate about lifelong learning, there should also be free or low cost, varied, and plentiful continuing education programs, certificate programs, and trainings. We should all be passionate lifelong learners.  Instead, education is becoming increasingly private, expensive, and market driven- qualities that are anathema to creating a population with a zeal for expanding their human experience through learning. The present system is flawed in many ways.  At a basic level, it is bad for capitalism since it thwarts the reproduction of labor. If people cannot marry because of debt or must pay student debt into old age, there is a diminished ability to ensure the sustenance and continuation of labor. While I have no sympathy for capitalism's continuation, the student debt system will inevitably cause crisis in capitalism as workers are increasingly burdened by loans.  PSLF is a small, relatively unknown escape hatch from student loan burden (which still requires 10 years of payments and a lot of hoops). But, for many people, it relieves them of the worst burdens of their debt as they provide various services to society. More must be done. This modest program must be defended, but beyond this, we should demand forgiveness of all crushing educational debt and quality education for all.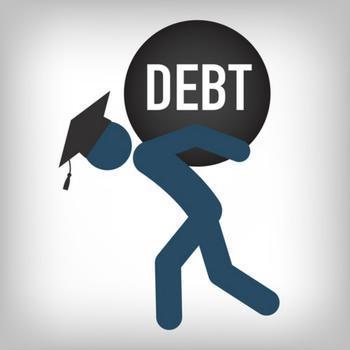 Image from:  https://www.consumeraffairs.com/news/senate-bill-would-provide-student-loan-debt-relief-070617.html
Sources: (not formatted correctly…)
https://www.usnews.com/education/blogs/student-loan-ranger/articles/2018-04-04/how-student-loan-borrowers-can-requalify-for-public-service-loan-forgivenesshttp:
https://money.cnn.com/2018/02/02/pf/college/public-service-student-loan-forgiveness/index.html