Deconstructing Duluth's Demographic Crisis
H. Bradford
4/11/18
On February 24th, the Duluth News Tribune ran an article about Duluth's impending demographic crisis.  I wanted to write a socialist feminist response to this, but never got around to it.  Not that I am the authority on socialist feminism, but I am a feminist and a socialist…and I do think about these things…so, why not break it down?  Now, whenever I hear the word "demographic crisis" I want to run for the hills, or burn something, or both.  Not really, but I think it is one of those sexist, ageist, racist, pro-capitalist concepts that begs to be dismembered.   Here is why…
Ageism:
Early into the Duluth News Tribune article, when describing the shifting population of the Duluth region, the aging population is described as problematic.
"If population levels were even across age groups, this wouldn't be much of a problem. But, as you may have heard, the largest generation in the country's history is marching into retirement, leaving many jobs vacant just as unemployment levels are bottoming out and productivity growth is stalling (Johnson, 2018)."
It is true that our population is aging, but, one must consider why this is a problem.  According to the article, it is a problem because there will not be enough workers to replace those who retire.  On the surface, this seems like a problem, as society needs workers to produce things.  However, this frames the post-retirement age population as the cause of a social problem.  Framing the older population as a "problem" is ageist.  It also ignores their labor, as labor does not end when wage labor ceases.  Their contributions to society do not cease when they reach the age of 65 (or higher ages for the many people who do not have retirement savings, pensions, or the ability to survive on social security alone).  Older adults do unpaid work such as volunteering, caring for grand children, gardening, baking, canning, sharing their knowledge, checking up on one another, and a plethora of other important economic activities that are dismissed because they are unpaid.  Just as the invisible, unpaid labor of women is ignored as a natural or unimportant, this invisible labor and its contribution to society is also ignored.
This connects to the socialist feminist concept of social reproduction.  Basically, in capitalist society, the labor force must reproduce itself.  This can literally mean that the work force must replace itself through biological reproduction, but also means that each worker must sustain themselves through sleep, eating food, washing clothes, maintaining their health, relieving stress, and all the many things that are required to survive and work another day.   Typically, women have played an important role in providing the invisible, unpaid labor that keeps the work force …working.  Caring for children, giving birth, caring for the elderly, washing clothes, cleaning a home, doing dishes, making meals, grocery shopping, etc. are all important unpaid activities that ensure that capitalism will continue.  Of course, older adults who leave the work force also provide some of these services as they are "free" to (my own grandparents made many meals for me, baby sat me, bought me school clothes, taught me information, etc.).  Thus, is it really a problem that people grow old?  Aging is a natural process.  It may happen that we have an aging population, but why is this a problem?  Some people might respond that it is a problem because this group requires more care and there are not enough young people to care for them.  The article itself argues that it is a problem that there is not enough workers to fill jobs and that productivity will decline.
I am not an expert on matters of aging, but I imagine that the "problem of aging" could be mitigated by providing quality, free health care to people of all ages, along with clean environments, living wages, robust pensions, housing, etc.  The aging population might very well "age better" if a high quality of life was ensured for people of all ages.  What does it mean to "age well" anyway?  I think to most people means the ability to care for one's self, enjoy a high quality of life, and live independently for as long as possible.  If this is what this means, the locus of "aging well" is framed as an individual responsibility and the very human need for care is viewed as burdensome.   This concept is very individualistic and puts the rest of society off the hook for taking responsibility of providing and caring for the variable needs of older adults.  It is also ageist, as aging well is basically the ability to live as similarly to a young person for as long as possible.  Maybe it is okay to be wrinkly, sedentary, crabby, or anti-social.  Society is awful.  Living through decades of economic ups and downs, cuts to social programs, pointless wars, and the general nonsense of everything deemed meaningful by society might sour a person against living with youthful optimism and vibrancy.   After years of being alive, "aging well" might seem like a racket to sell beauty products, skin treatments, fitness memberships, etc.
(This image leads me to believe that aging well has something to do with being white and wealthy.  Capitalism doesn't have resources to spare on caring for the elderly, so make certain you stay healthy with fresh air and bike rides in the country.)
If indeed there is a shortage of workers, there are certainly plenty of people in the world and United States itself.  These people might be more inclined to move to this frigid region and provide elder care if this was not low paid, under appreciated service work but unionized with benefits (including retirement plans!), better wages, and better working conditions.   A true shortage of workers might require open borders to allow new workers to enter the country, but this would require a move away from our current racist, xenophobic, nationalist, and exploitative immigration policy.  The "aging population problem" is not a problem with age, but an ageless problem of capitalism to meet the basic needs of humanity.
Of course, the notion of declining productivity must also be challenged.  Why is it a problem when productivity declines?  Why must productivity always increase?  What does this mean for the environment?  When have we produced enough?!  Productivity is a problem in capitalism because of the tendency for profits to decline.  Because competition lends itself to increased investment in fixed capital and there are human thresholds of how much variable capital can be exploited from workers, profits decline over time.  Markets also become saturated as there is only so much people can buy (again because wages only allow so much consumption).  When too much is produced and too little is consumed, capitalism falls into a crisis, which Marx called the crisis of overproduction.  Therefore, productivity is not necessary good.  It is not good for the workers (who must work longer or harder).  It is not good for the environment (as it creates waste and overuse of resources).  And it is not even good for capitalism, since it lends itself to instability.  I think it is important to think against blind productivity and instead think about rational, careful production in the interest of human needs.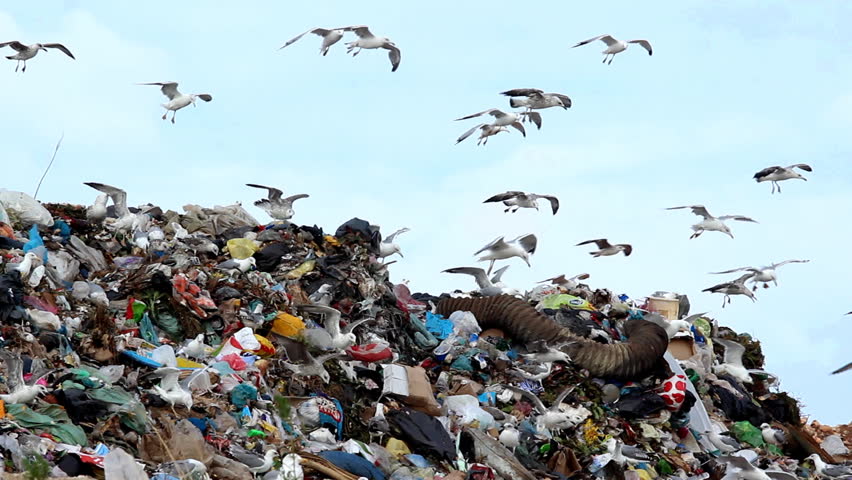 (Capitalism probably produces enough…  though I suppose the gulls don't mind.)
Sexism:
Another reason why I dislike the concept of "demographic crisis" is that it is sexist.   Although the article only mentions it briefly, increasing birth rates is often suggested as a way in averting the crisis.  Even if it is not mentioned in detail in the article, it is implicit in the premise of the argument.  If the population is aging and this is a problem, that means that not enough new people are being born.  Thus, not only are older adults the problem, the bigger problem is that women are not gestating enough babies.  The bodies of women have long been treated as public property, inasmuch as their reproductive power is harnessed for state interests.  The fight for reproductive rights is a fight to liberate women from their role as the producer's of the next generation of soldiers and workers.  The birth rate in the United States (according to 2018 CIA World Factbook Information) is 12.5 births per 1000 people.  Our birth rate is slightly higher than the UK, Sweden, France, and Australia which all have 12.x births per 1000.  The rate is higher than Finland, Canada, Switzerland, Netherlands, and Denmark, which have 10.x births per 1000 people.  Our birthrate is certainly greater than South Korea, Japan, and Germany, which range from 8.x to 9.x births per 1000 people.  Despite our higher birth rate, there is enormous pressure upon women to reproduce- to the point that the organized movement against abortion has made birth nearly compulsory in many parts of the country due to restricted access to abortion.  In many of these countries with lower birth rates, the issue of abortion is far less controversial.  Here, anti-choice activists bemoan the loss of millions of fetuses, which they argue contributes to our demographic crisis (fewer workers, fewer students, etc.)   At the core of demographic crisis is a demand to control reproduction- because if population is viewed as a resource, women's bodies are responsible for producing this resource.
 In the context of capitalism (and unfortunately many economic systems), population is treated as a resource.  Workers need to reproduce so that there are more workers.  This leads to a precarious balance.  Capitalists do not provide for the reproduction of labor (this has often fallen upon women and families) as this requires an investment in workers.  At the same time, workers have to have a basic level of sustenance to continue working and to allow for a new generation.  For instance, if a woman works too hard or consumes too few calories, she may stop menstruating.  Therefore, workers generally have a basic threshold of exploitation which if reached these workers will no longer be able to survive and reproduce.   In the United States in particular, our status as a world power has an economic component and a military component.  The military domination of the world is an extension of the economic component, as military might ensures access to markets, thwarts competitors, offers access to capital (for instance natural resources and labor), etc.  For the United States to remain an economic and military power, babies must be born.  Babies are needed so that there will always be a supply of soldiers and workers.  Reproduction is a national interest.  I think this contributes to the controversy around abortion and the drive to limit it.
(A piece of art that I created called Capitalism is Built on the Bodies of Women)
As I alluded to in the previous paragraph, capitalism has a contradiction.  On one hand, in seeks to increase profit by extracting more surplus value from workers.  Because profits decline over time, workers are pressured to work harder and longer.  This increased exploitation limits the ability to reproduce labor (to reproduce biologically, but also to maintain a certain level of health as workers).   In the United States, not a lot of profit is redistributed towards caring for our existing population (i.e. ensuring the reproduction of labor).   We do not offer paid parental leave.  We do not have free day cares.  There is a shortage of housing.  Health care is expensive.  The list goes on.  The conditions of capitalism are so extreme that 5.8 infants die out of 1000 born.  In Japan, two infants die per 1000 births.  In Iceland, Norway, Finland, and Sweden, there are slightly more than 2 infant deaths per 1000.  In the European Union as a whole, there are about 4 deaths per 1000 according to the CIA world Fact Book.  Once again, rather than a demographic crisis, our crisis is an inability to care for our population.  Certainly, anyone worried about our economic or military strength might begin by tackling the causes of infant mortality.  But, this would mean diverting profits towards human needs.  Re-thinking profits and capitalism itself would undermine the logic of militarism and nationalism.
Supposing that the United States provided free access to abortion, birth control, all health care, and social conditions favorable to reproduction (paid leave, free day care, adequate housing, etc.)  Even if these conditions were met, women have no obligation to reproduce the next generation.  They should not be scapegoated for demographic crisis.  In the end, it is up to society to creatively adapt to changing populations- not women.
Racism and Classism:
The article concluded that a key to averting Duluth's demographic crisis is promoting immigration to the city.   Regarding this point, Mayor Larson said,  "Duluth needs to be a community that is welcoming and open to new experiences, new faces, new ethnicities, new races to solve workforce shortages (Johnson, 2018)."  I think that it is generally a positive, feel good conclusion, since well, who doesn't want Duluth to be a more welcoming city?  The mayor suggests working with education and health care partners to attract more diversity to the city.  Hmm…alright.  What does really this mean?
In a subtle way, the statement hints at what kind of diversity is acceptable in Duluth.  I interpret working with education and health care partners to mean attracting diversity by attracting professionals of color.  The center of this argument is not "let's build more low income housing so we can attract all of the African Americans in Chicago or Minneapolis who are on housing waiting lists and house those who already exist in our community!"  Duluth DOES have some racial diversity BUT, this diversity is segregated into poor neighborhoods, homeless shelters, and jail.  Yet, because they are poor and people of color, this population is not seen as a solution to the "demographic crisis" because they are an OTHER at best and problem at worse.  They are those people.  Those people who are blamed for crime or making things not like they used to be for white people.  This is another problem with the notion of "demographic crisis"- since demographic crisis always refers to the shortage of a desirable population.  We have a low income population that would probably be happy to invite friends and relatives and grow if Duluth was a more welcoming, less racist, expanded housing, housing and employers ceased discrimination against criminal backgrounds, day care was expanded, public transportation was more reliable, schools were not segregated and plainly racist, etc.
Truly making Duluth a city for everyone, as the Mayor suggested, would mean changing what Duluth is right now.  Right now, Duluth is focused on being a city for business.  In particular, it is a city for businesses that serve tourists.  Centering the city on the tourist industry makes Duluth a city not for everyone, but for middle class, mostly white people, who have the leisure and money to stay at a hotel or the outdoor gear to enjoy our nature.   Duluth can't be a city for business and for everyone.  We CAN be a city that is for everyone that happens to attract tourists, but the reverse is not possible.  The reverse is what has made Earned Safe and Sick time so controversial, as segments of the business community that are most opposed to it are those sectors that serve tourists (restaurants and hotels).  The reverse has also been what has stalled the Homeless Bill of Rights- because homeless people are a "problem population" not one that should be accounted for in "demographic crisis" and certainly not one that deserves to be treated with basic dignity.  After all, they might just spook the customers!  If we want to be a city for everyone, then we should start by being a city for workers, for the homeless, for people of color, and all of the oppressed in our community.
Conclusion:
Duluth is just one city.  It would be pie in the sky to try to think we can build socialism in a single city.  Many of my suggestions require a massive struggle on a national scale to accomplish.  I do believe that we have local activists with the talent and audience to contribute to such a national struggle.  I am not one of them, but am a small and marginal voice in that struggle.   Beyond the national, there are some things that can be done on a local level.  We can focus local priorities on meeting human needs and support things such as Earned Safe and Sick Time and the Homeless Bill of Rights.  We can challenge the policies of our schools and police to make the city less racist and classist.  We can also think against business interests and promote diverting profits towards social good.  Beyond these material things, I wrote this because I wanted to challenge the ideological logic of "demographic crisis."  Like many crisis and panics, it is a social construct.  Inherent in this constructed crisis is ageism, racism, sexism, nationalism, and classism.  There are no population problems.   There are only failures of societies to address the needs of populations.  It is only through struggle that we will win the means to address these needs.
Johnson, B. (2018, February 25). 'Stability' not enough for Duluth jobs; aging population isn't being replaced on pace. Retrieved April 11, 2018, from https://www.duluthnewstribune.com/business/workplace/4408874-stability-not-enough-duluth-jobs-aging-population-isnt-being-replaced
https://www.cia.gov/library/publications/the-world-factbook/rankorder/2091rank.html