A Feminist Wonder Woman Review
H. Bradford
7/14/17
Sometimes it is hard to enjoy movies.  It stems from my political leanings, education in sociology, and life as a social misfit.  So, I really didn't expect that I would like the new Wonder Woman movie.  Especially when my brother gave me two spoilers: she falls in love and she fights the Germans.   Nevertheless, I do like superhero movies.  And, the movie is important since it features a female superhero.  Thus, I thought I would give it a try.  With that said, here is my review of the movie!  Of course, is it not the review to end all reviews…
Feminist Feudalism:
The film begins in Themyscira, the hidden island homeland of the Amazons.  The Amazons have been sequestered on this island for thousands of years following a battle between Zeus and Ares.  The island itself was made invisible by Zeus before he died.  Themyscira is populated entirely by women, which makes it a little reminiscent of Herland, the short novel by Charlotte Perkin's Gilman.  Unlike Herland, the women of Themyscira do not reproduce (in Herland they did by parthenogenesis).  But, similar to the novel, the women are strong, educated, and beautiful (though in Gilman's novel, this is the result of eugenics).  In both, the women must deal with the challenge of the arrival of men to their hidden abode.   Gilman's book was written in 1916 and the Wonder Woman film takes place in 1918.   The similarities end there, as Herland was more imaginative in depicting an all-female society.  Themyscira is pretty dull.  Although the women are thousands of years old, they live in what appears to be sort of feminist feudalism, governed by a queen.  Wonder Woman herself is a princess.  While Wonder Woman later compared Candy, the secretary, to a slave with disdain, there is clearly social hierarchy within Themyscira.   Also, Wonder Woman/Diana is the daughter of the Queen Hippolyta, who is protective of her and refuses to let her sister train her to be a fighter.  This indicates that although there is only one child in the whole island, she is not raised equally by all of the women.  Instead, she belongs to her mother.   Despite the thousands of years of isolated female community, there has been little social experimentation towards more equal social relations.  Further, although there are Black women on the island, the leaders of the Amazons are all Caucasian.  Again, the island does not seem to be very imaginative or utopian, which is disappointing since it would have been an opportunity to explore gender, gender roles, and social inequality more seriously or even draw from utopian fiction from the film's era.
World War I:
The film is set in World War One.  I like this as it draws attention to the 100 year anniversary of the war and where the world is today.  War is a major theme in the film, since the main villain is Ares, the god of war.   In the mythos of the film, Ares will return and start a great war.  It is Diana/Wonder Woman's task to stop him and end World War One.  Now, World War One is not as popular in American history, identity, and memory.  When I was a student teacher, the students groaned about having to learn about this war.  They wanted to move on to WWII, as that was the exciting war. Because World War One is not given the same attention, but certainly reshaped the globe and caused vast and horrific loss and suffering, I liked that it was chosen as the setting.
Within the film, the Amazons have a "just war" philosophy about conflict.  They want to avoid conflict, but feel that they must train and fight when it is necessary.  When Diana is told about the millions that have been killed during World War One, she feels that she must spring into action.  Unfortunately, the film makes many mistakes in how WWI is presented.  Firstly, the Germans are introduced as the villains via Steve Trevor, the American spy who crash landed in Themyscira.  But, there really were no "villains" or World War One or there was a shared villainy between every imperialist country that participated.  While imperialism SHOULD be the villain in the film, it is beyond the scope of a mainstream comic book movie to show war as the outcome of imperial gamesmanship.  Portraying the Germans as villains draws upon Nazi tropes, that there are crude, uniformed German accented villains plotting some horrible thing against the West.  In the film, the Germans are working in collusion with the Ottomans, who in are not really portrayed, other than offering Germans arms and a place to develop their weapons.  Again, I found it unsettling that the villains were conveniently the Germans and Muslims.
Those villainous Germans….
As the film progresses, Diana/Wonder Woman sees that the British are senselessly sacrificing lives and that Ares was never General Ludendorff, but the weasely British cabinet member:   Sir Patrick Morgan.  Diana also learns from "Chief" (eye rolls) about the genocide of Native Americans.  This muddies the water a little as she realizes that many countries act as villains.  She continues to frame this as the cause of Ares, God of War.  There is a brief moment where she must consider that humans cause war, but the movie sabotages this by having Ares die and the conflict end.  However, this is still not a serious consideration of the causes of war.  The film pits the evil of humans vs. the evil of a god as the causes of war.   Again, I am disappointed that the film does not suggest any other cause of war…such as well, economic motives.
Finally, the film is set primarily in Europe and even then, only the Western Front.  The underlying message is that only Western European lives matter.  The fact that for thousands of years the Amazons waited for a "great war" to herald Ares return…and this great war was World War One is extremely Eurocentric.  I wish that "Chief" would have asked Diana why she didn't intervene during the genocide of Native Americans.  It is hard to know the exact death toll, but the Spanish conquest of Peru may have taken the lives of 8 million people alone.  Mongol invasions, Tamerlane's invasions, the expansion of the Mughal Empire all cost millions of lives.  It may have been nice if the Amazons would have mobilized during the conquest of Africa.  Wonder Woman might have taken on King Leopold II before he killed 10 million Congolese.   But, Black and Indigenous lives don't matter even in the fantasy world of comics.  British, French, Belgian and American lives do.   Nevertheless, I liked that WWI was chosen as the setting.  It makes a great backdrop for a film about the horror and pointlessness of war.  Unfortunately, I didn't like the Eurocentric narrative created around this setting.
Why can't he be the villain?
Racial Stereotypes:
There is a character in the film called Chief.  Chief is a stoic, Native American smuggler who finds himself in WWI.  He is one of Diana's allies, but has very few lines.  The only thing that he adds to the movie is that he informs her that her love interest's people killed his people.  Again, he is called Chief and not really given any backstory.  The character seems shoehorned into the setting.  If the film maker is going to add a Native American helper character into the mix, he should at least have a little personality and a name.  It might also help if he didn't make smoke signals…
Sameer, the French Moroccan master of disguise is better developed than Chief.  We learn that he is a womanizer, knows many languages, and wanted to be an actor (but could not because of racial barriers).  Still, he is not allowed to be equal to Steve Trevor, the Caucasian American.  He finds Diana to be attractive, but is never taken seriously as a love interest.  He is even nicknamed "Sammy" which Anglo-sizes his name, but also makes him more childish and non-threatening.  When he speaks another language, it is usually French, the language of his colonial master.  Granted, I suppose it is nice that the film included a Muslim character as a "good guy" but in order to be good he must be silly, with clownish masculinity.  Also, why does Sameer want to risk his life fighting for France?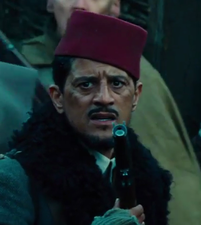 Dr. Poison:
Many people have written about Dr. Poison, the chemist working with the Germans to create dangerous gases.  She has been widely critiqued because she is a villain with a facial deformity.  This continues the stereotype that people with disabilities or deformities are evil, tragic, and should be pitied.  I found it odd that her real name was Isabel Maru and that she was Spanish.  Spain was actually neutral during World War I, though different sectors of society sided with the Allies and Central Powers.  Dr. Poison is not a well developed character, so who knows what brought her to side with the Germans.   If she sided with them for political reasons, perhaps she was upper class/reactionary/conservative.  On the other hand, perhaps Spain did not offer her many employment opportunities in the field of chemistry.  Perhaps she went to Germany for employment in their chemical industry.  Who knows, maybe she even immigrated there during peaceful times to apply her knowledge to a more benign part of the chemical industry, such as producing dyes.  With the onset of war, maybe her dye making factory was converted to manufacturing gases.  OR, she was just a villain who liked to kill people by making poison gas.  I like to imagine her as a working woman who had to adapt to the demands of the war or face unemployment as a disfigured, immigrant, woman.
Honestly, I found Dr. Poison to be the most relateable character.  I am not gorgeous, fearless, fluent in 195 languages, etc. like Wonder Woman.  There is a scene wherein Dr. Poison is hit on by Steve Trevor.  In a rasping voice she says she doesn't drink!  I don't drink!  It is also clear she has zero game.  I have zero game!  If an attractive guy started to chat me up, I would also probably say something weird and off-putting.  That's why I love Dr. Poison.   Of course, I don't want to kill people with poisonous gas, but the film does not really develop her motive or the life events that brought her to that point.
As for her passion for poison gas, I felt that this fit in well with the WWI setting.   Popular Mechanics has a really great article about the history of gas warfare in World War One. http://www.popularmechanics.com/culture/movies/a26769/world-war-i-poison-gas-wonder-woman/ Interestingly, the first use of poison gas dropped from an aircraft was actually the British fighting the Bolsheviks in 1919.    This is in contrast to the film, wherein the Germans try to send a plane loaded with gas bombs to London. Another interesting article, discusses the history of women in WWI.  Women actually did work in factories that produced gas masks and there were some prominent female chemists during WWI who later sought to ban chemical warfare.  Information regarding this history can be found here: https://blog.oup.com/2017/07/wonder-woman-and-world-war-i/
Wonder Woman Herself:
I thought that Wonder Woman/Diana was a likeable character.  Although I could not relate to her, owing to the fact that she was too powerful, beautiful, and intelligent to be realistic, she was not an off-putting super hero.  She spoke her mind.  She wore what she wanted to wear.  She criticized or mocked social norms.  She showed compassion and struggled to understand the world and make things better.  She was generally much easier to like than Bruce Wayne or Superman.
Although she fell in love in the film, this did not make me want to barf in my mouth.  It wasn't really sappy.  Her love interest died trying to destroy the gas bombs en route to London.   I didn't think that Steve Trevor was particularly interesting or compelling.  I also find it a bit annoying that Diana ends up falling in love with the first guy she meets, even though she says that the Amazons have concluded that men aren't necessary for pleasure.  It would be interesting if she was portrayed as a bisexual character.  Instead, the movie plays it safe, making her monogamous and heterosexual.
As for Gal Gadot, she is certainly beautiful as an actress…but politically ugly in her support of Israel's occupation of Palestine.  She served in the Israeli Defense Force (which adult Israelis must do unless they consciously object) and supported Israel's 2014 assault on Gaza, which killed over 2000 mostly civilian Palestinians.  In protest of her overt pro-Zionism, Wonder Woman has been banned in Lebanon, Tunisia, and Qatar.  The film itself does not explicitly take up the issue of Israel, although the British took control of Palestine after WWI and the collapse of the Ottoman Empire.  Wonder Woman does fight alongside the British against the Ottomans and Germans.  So, in a very subtle way she plays a role in shaping the future of Palestine in the film.
Ares:
A final point I will make is on the lesson learned from Ares in the film.  The film leads the audience and Wonder Woman to believe that General Ludendorff is the human guise that Ares has taken.  At the end of the film, he is unceremoniously killed by Wonder Woman.   It turns out that he was just an ordinary guy!  The real Ares is Sir Patrick Morgan, a mustached British man who sought armistice.  This is disappointing.  He is not at all imposing.  He has a silly, ginger colored mustache and the physique of a scarecrow.  Even when he dons a giant, dark suit of armor….he still has that awful mustache.  Perhaps he represents the grotesque power of men in patriarchy.
He is not at all villainous looking.  He looks like he could be Ron Weasley's father (though he played Remus Lupin).  He is thin…very white…mustached…ginger haired (no offense to redheads) and British.  Nothing about him is imposing or particularly evil looking.  Even when he transforms into Ares in Armor, he looks like a scrawny guy in a giant metal suit.   He floats in the air and shoots lightning from his hands.  All the while he looks ridiculously weak.
In the end, maybe this was a good casting choice.  In order to be Wonder Woman, a woman must speak 195 languages, leave her homeland, train with Amazons, be gorgeous, and the daughter of a God.  In order to be Ares, you can be some pasty, thin British dude.  Most women are not Wonder Woman.  So, they are oppressed.  Only by being so astonishingly exceptional can Wonder Woman defy social norms and overcome the limits that women face.  As for Ares…he just has to be some dude who works his way into the Imperial War Cabinet.  He is far from the most clever, charismatic, attractive, compelling villain.  He's a forgettable white guy.  Well, he is memorable for his mustache.
Conclusion:
There you go!  That's what I thought of Wonder Woman.  Now, I am sure there is more to say or something that I forgot, but I think I hit on the main points.  Despite this critique, I actually did find the movie enjoyable.  It was better than I had anticipated and pretty good for a DC movie.   Obviously the movie could have been improved upon, but if movies were made to suit my taste, Wonder Woman would have fought with the Red Army and fallen in love with a loaf of rye bread that slightly resembles a human face (maybe it could become her sidekick…Wonder Bread).  Her love interest would represent the isolation and misery that are romantic attachments in an indifferent universe full of temporary things.  My brother said that my version of the film would feature a 45 minute pre-movie documentary about the historical locations used in the film and the characters would debate things like cultural appropriation.  So, take what I say with a grain of salt or …a few crumbs of rye bread and feminism.