The Road NOT Traveled: Seven Things We Didn't See
The Road NOT Traveled: Seven Things We Didn't See
H. Bradford
5/31/18
As much as we packed into each day, there was quite a lot that my brother and I did not see on our road trip.  I think that no matter how long or short a trip is, there are always things that a person misses out on. In life in general, there isn't time for everything!  So, here are some highlights of the Road NOT Traveled, should anyone undertake a road trip between Texas and Minnesota and need some additional ideas of places to stop.
1. Mammoth National Monument- Waco, Texas
Originally, we had planned on traveling along Interstate 35 to Waco, Texas.  The goal was to see Mammoth National Monument, a park operated by the US National Park Service wherein visitors can see two dozen mammoth fossils.  I think it would have been pretty interesting to visit the site and learn more about Colombian mammoths and other Pleistocene animals. However, this would have taken us through thick traffic.  We instead made the choice to visit Balcones Canyon Lands. We ended up seeing an endangered golden cheeked warbler. I think seeing the warbler was probably more special than seeing the mammoths.  After all, the mammoth fossils aren't going anywhere…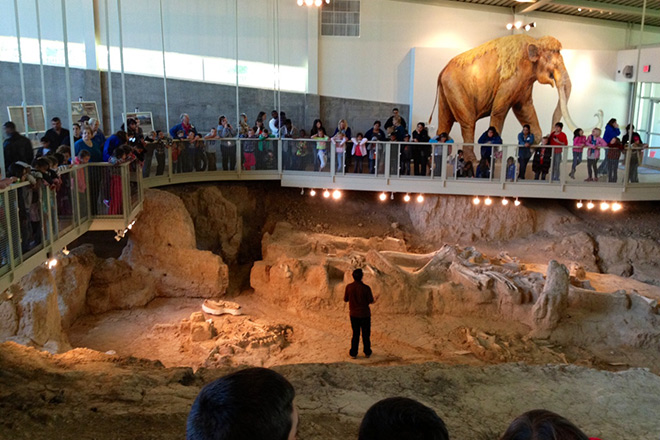 image from National Parks Conservation Association
2. Dr. Pepper Museum- Waco, Texas
I don't even like Dr. Pepper.  Yet, for some reason I wanted to make a stop at the Dr. Pepper Museum in Waco, Texas.  I guess it was just another thing to do in Waco. Well, we skipped Waco and missed out on the museum.  Twenty four mammoths and twenty three flavors were not enough to draw us to Waco…
image from Dr.pepper museum website
3. Frida Kahlo Mexican Restaurant and Billy the Kid's Grave-Hamilton, Texas:
I missed out on the Frida Kahlo Mexican restaurant and the so-called grave of Billy the Kid in Hamilton, Texas.  The grave actually belongs to Brushy Bill Roberts, who claimed to be Billy the Kid.   I suppose visiting the site would be akin to visiting the the grave of someone who claimed to be Anastasia Romanov.  I was not aware of these sites until we passed through.  Since we were on our way to Dinosaur Valley State Park and had not planned a stop, we passed along without stopping.
image from Tripadvisor
4. Giant Czech Egg- Wilson, Kansas:
"Awe, look…they're even wearing their cute little outfits," my brother said regarding Wilson, Kansas' Czech Egg and the accompanying Czech denizens of the small town.  The community features a 20 foot tall painted Czech Egg. Unfortunately, it was impossible to include the giant painted egg in our adventure, since it is located four hours away from the Tallgrass Prairie National Preserve.  The "Czech Capital" of Kansas was too westerly to fit into our road trip. I am sure it would have been fantastic to see the giant egg, but not enough to add several more hours of driving in the opposite direction.
image from Atlas Obscura
5. TruckHenge-Topeka, Kansas:
I really wanted to see TruckHenge, a work of art from an anti-social anti-government sort who was told to remove the junk from his property but instead turned it into a tourist attraction.   Located outside of Topeka, Kansas, a visit to the site would not have added THAT much time to our trip. However, my brother had misgivings about visiting the property of a seemingly hostile anti-government individual whose odd, scrawled messages on the cars indicated that a social visit to his private property would amount to an awkward interaction.  A visit to the farm would necessarily mean interacting with this person as he gave us a tour of the property.   It is hard to know what to expect from this person. Would he engage us in political conversation? What would we say?  How long would the tour last?  Would we offend him?  There were too many social unknowns about such a visit.  I, on the other hand, had initially mistaken Truckhenge for Carhenge, which is an ACTUAL replica of Stonehenge with cars.  Carhenge is located on western end of Nebraska and therefore too far out of the way to make it worth our while. So, there was no Truckhenge or Carhenge for us!
He might have been a polite and reserved tour guide.  I guess we will never know…
6.  Subterra Castle-Topeka Kansas area:
Just west of Topeka, tourists can visit (and stay at!) a missile silo turned unique home!  The missile silo was decommissioned in 1965 and purchased for $40,000 in 1983 by Ed Peren and his wife.  Ed turned the missile silo into a livable space (pumping out water and testing for radiation). They have decorated the space with New Age decor and offer private tours of their home.  I think it would have been interesting to visit, but tours must be arranged in advance. Lack of time and planning prevented a visit.
image from Subterracastle.com
7. Kregel Windmill Museum-Nebraska City, Nebraska:
I wrongly assumed that the Kregel Windmill Museum in Nebraska City is the only museum of its kind.  Oddly enough, there are a sprinkling of other windmill museums across the US and even in South Africa!  The Kregel Windmill Museum was on our road trip agenda but was cut because we ended up taking a different route to Sioux City, Iowa when we visited the Indian Cave State Park.  Given the choice between seeing a museum devoted to a windmill manufacturer or Native American petroglyphs, I chose the petroglyphs. While I may have missed out on the Kregal Windmill Museum, perhaps I can chase windmills another day (as Texas, New Mexico, Oklahoma, and Indiana also have windmill museums.)
image from wikipedia
There are only so many hours in a day.  A person has to choose if they are going to see endangered warblers or a mammoth graveyard.  Choices must be made between Native American petroglyphs and windmill museums.  The worth of visiting a slice of prairie must be weighed against the value of giant painted eggs.  Life (for some people) is full of choices.  I like to think that life is long.  Perhaps, one day, I will visit some of these sites.  Perhaps not!  Of course, there are others that were not mentioned, as we passed by numerous interesting places along the way.   There are always roads not taken and all of the fascinating things that will only be experienced in the imagination.   I am happy for the privilege of experiencing those things that I can.